Home Automation
Home automation is the technological advancement allowing you to remotely control your home's electronic appliances and systems. It can include everything from automatic door locks and security systems to thermostats and lighting.
The systems can make your home more convenient, secure, and energy-efficient. Systems can be controlled via a mobile app, web interface, or dedicated automation hub.
Eyelogy is a company that specializes in providing services related to home. Eyelogy offers various services to help you set up and optimize your system.
Which home automation system is best?
Eyelogy, a renowned company in the home automation industry, offers exceptional services. Their advanced technology and expertise ensure seamless integration of various devices in your home.
Eyelogy's  solutions provide convenience and efficiency. With their user-friendly approach, Eyelogy simplifies the management of your smart home, making your life more comfortable and enjoyable.
Is home automation the future?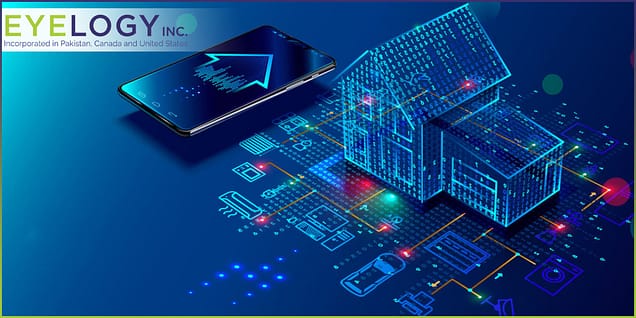 With the ability to control features of your system, such as lighting, temperature, and security,  automation offers convenience and efficiency. Eyelogy is at the forefront of this promising future.
Which home system is the best?
Regarding home systems, Eyelogy stands out as a top provider. Their range of services offers exceptional quality and convenience for homeowners.
With innovative features and reliable performance, Eyelogy ensures the best home management experience.
Working on a home automation system:
With Eyelogy's  system, you can control various devices and appliances with ease, such as:
The system utilizes intelligent sensors, wireless technology, and a central hub to connect and communicate with different components in your home.
Through a user-friendly app or voice commands, you can effortlessly adjust lighting, temperature, security systems, and even entertainment devices.
Eyelogy's system provides convenience, energy efficiency, and peace of mind, allowing you to create personalized settings and schedules to suit your lifestyle.
How to home automation?
It is automating various tasks and devices in your home for increased convenience and efficiency. Their user-friendly app allows you to schedule tasks, monitor energy usage, and receive notifications remotely.
By integrating intelligent devices like thermostats, cameras, and plugs, Eyelogy helps you create a seamless and personalized home automation experience, making your life easier and more comfortable.
Why is a home automation system essential?
The systems are essential to enhance convenience, save time, improve energy efficiency, and enhance security.
Systems, like the ones provided by Eyelogy, are crucial as they simplify our lives. With automation, we can control devices, lighting, security, and more from smartphones.
Home automation in Pakistan:
In Pakistan, Eyelogy offers cutting-edge home automation solutions.With their expertise, they transform houses into smart homes, allowing residents to control lighting, temperature, security, and more.
Which system is home automation part of?
Home automation is a wider part of the system known as the "Internet of Things" (IoT).
It involves the integration of smart devices, sensors, and software to create a network that allows homeowners to remotely control and manage various aspects of their homes, such as lighting, temperature, security, and appliances.
Home Automation for disabled persons:
Eyelogy offers an innovative automation system specifically designed to assist disabled individuals.
Eyelogy's user-friendly interface empowers disabled persons to enhance their independence and quality of life.
Home Automation and security system:
They can improve security and safety. Eyelogy offers services such as smart locks, security cameras, and motion sensors, allowing you to monitor and control access to your home from anywhere.
You can receive notifications if there are any unusual activities or breaches, providing you with peace of mind.
Key Benefits of Home Automation:
Convenience
Energy Efficiency
Safety and Security
Comfort and Ambience
Time-saving
Remote Access
Cost Efficiency
Peace of Mind
Accessibility
Integration and Expandability
Comfort Home Automation:
Comfort Home, brought to you by Eyelogy, offers. You can manage your lights, thermostat, security system, and more. Set schedules, receive notifications, and even integrate voice commands with popular virtual assistants. Enjoy the comfort of a fully automated that adapts to your lifestyle.
Home Automation Design
Eyelogy specializes in innovative home automation solutions. Our expert team designs cutting-edge systems to make your life easier and more convenient.
Experience the future of home living with Eyelogy's seamless integration and user-friendly interface.
Home Automation System
Eyelogy is a leading provider of home automation systems. From lighting and temperature to security and entertainment, Eyelogy offers a seamless and convenient solution.
Their user-friendly interface allows you to easily manage your home, making your life more comfortable and efficient.
Home Automation and Security System Project
Home automation and security systems have become increasingly popular, offering convenience, comfort, and peace of mind. With their customizable solutions, you can personalize your  experience to suit your unique needs. Eyelogy is a leading company specialising in providing comprehensive  security solutions.
Eyelogy's  provides many benefits, including convenience, energy efficiency, increased security, intelligent lighting, simplified home entertainment, remote access and monitoring, and personalization. By harnessing the power of automation, Eyelogy enhances your home's overall comfort, control, and convenience.